Help for women involved in sex-trade.
The group of peer-educators follow and help women and adolescents involved in prostitution, These women are marginalized and most of them have no fixed address or identity papers, depriving them of access to health care. For their children, our program Where Dreams Bloom takes care of them. Our team helps these women to find a "normal" life and proposes reconversions, but their deplorable psychological state is often an insurmountable obstacle. Most of them have been forced into prostitution since they were 14 years old and 90% have been sexually abused in their early childhood, often before they were 6 years old.
"Sexual exploitation broadly refers to "any actual or attempted abuse of a position of vulnerability, differential power, or trust for sexual purposes, including but not limited to profiting monetarily, socially, or politically from sexual exploitation." Kofi Annan, 2003.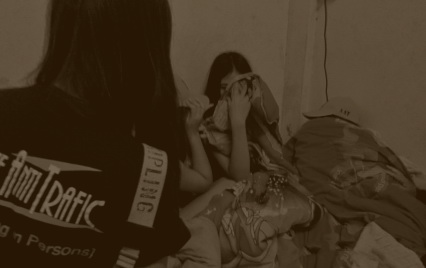 "Simple and achievable measures are available to improve the daily lives of women involved in prostitution and to act against the risk of their young daughters or sisters being enrolled''
Since 2002 we have developed a network and a privileged contact with women. In addition to training in safe sex and condom donations, we follow the women in their daily lives, help them to take care of themselves and settle their administrative situation. Retraining through employment and/or professional training is also offered.
Reducing the risks and difficulties of daily life. Our program is based on education, empowerment, prevention, care, health, safety, decriminalization of prostitutes and the possibility of retraining.
In the field, former prostitutes, peer-educators, meet with women and inform them about health and safety guidelines for their work. This helps build trust with the prostitutes and gets them involved in the program.
The cost of the program is 32.000€ per year. The project is renewed every year.
Women find comfort and feel less abandoned knowing that they can contact our educators if they need to. We have a unique database on prostitution in Ho Chi Minh City for over 20 years.
68,464 women and teenagers helped since 2002
In 2022 only:
2003 persons trained to safe sex practice.

8141 condoms distributed.

500 medical check provided.