How we work
AAT works to eliminate sexual exploitation through various different programs, aimed to cover the whole process of suppressing trafficking and sexual exploitation/abuse and to provide support to victims. Although AAT's work focuses mostly on cases of trafficking in the form of forced prostitution, we also handle and provide support in other kinds of complex cases of commercial sexual exploitation (for example commercial surrogacy) and other kinds of sexual abuse (for example rape, or sexual abuse in a situation of labor trafficking).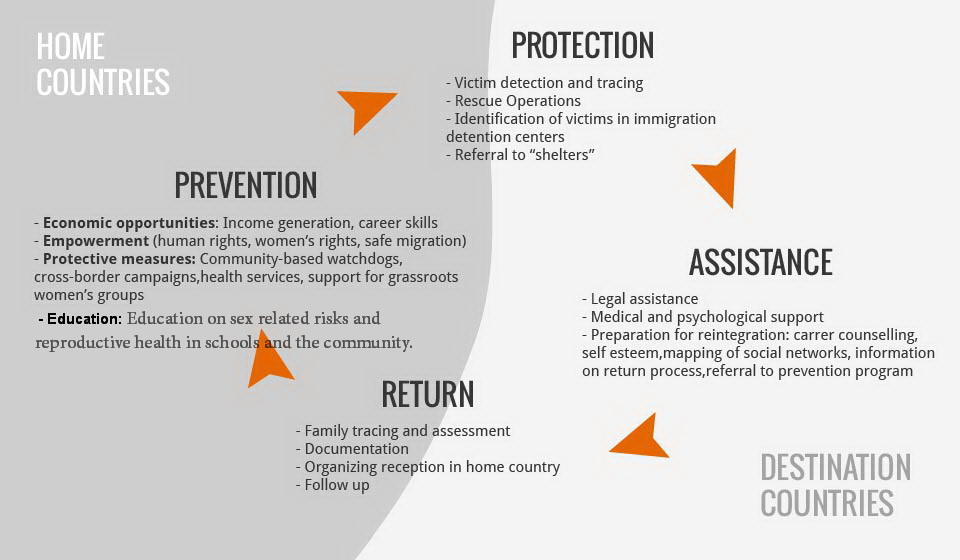 AAT works using a regional approach, which means that we don't limit our work to a certain geographic area but work wherever necessary. Our experience has shown that a transnational crime such as trafficking can't be fought when limiting yourself to certain areas, and our staff must be ready to cross borders in their work in situations where it is not possible of efficient to cooperate with a partner who has strong presence in the geographical area concerned.
Our program include:
Prevention / Empowerment: Actions and strategies to prevent trafficking and sexual abuse from happening, or preventing former victims from being re-trafficked; and to provide women and girls who have returned home or who are at high risk for being trafficked with increased opportunities to generating income and making independent choices. Educative programs about sex related risks and reproductive health are applied in schools and in the community.

Protection: Investigating potential cases of trafficking / sexual exploitation, rescuing victims from situations of exploitation and identifying victims among detained immigrants. Transferring victims to appropriate safe places.
Assistance: Social and legal assistance to victims after rescue or identification from a situation of exploitation, until their return home. The aim of the Assistance Program is to provide access to the necessary emergency services, guarantee compliance with the victim's rights and prepare her for a safe and successful return.
Return: Planning and organizing the victims' return home after their time in a shelter, including a mapping of family and economic conditions to ensure a safe return.
Regional Coordination: We use the experience we have gained in the field to contribute to regional processes, where authorities aim to design appropriate systems and legislation to suppress trafficking and guarantee an efficient prevention, protection, repatriation, and reintegration of women and children.